Request for Proposal
Wine Tasting
After the meeting at the hotel, the guests will drive to the Old Town to the Nar Restaurant, to take a step into the world of ancient times, all the way to Bronze age, 4,500 years ago to discover the extraordinary aromas of wine's which are produced in Anatolia.

Turkey is the fourth largest producer of grapes in the world. The country is divided into 5 regions for wine production; Marmara Region, Aegean Region, Pamukkale Region, Central Anatolia, Eastern Turkey. There are more than 1200-1500 named grape varieties of which 600-800 are genetically different.


Turkish winemaking employs a mixture of traditional, local grapes and modern, imported varieties. The increasingly global red-wine portfolio of Pinot Noir, Cabernet Sauvignon, Merlot and Syrah is present, as is its white-wine equivalent, consisting of Chardonnay, Sauvignon Blanc and Semillon. The rustic southern French duo of Cinsaut and Grenache is also used in various Turkish wine regions, as is the Grenache-Petit Bouschet crossing of Alicante Bouschet. Cinsaut is often blended with the local grape Papazkarasi.  Some of the native Turkish varieties include the Yapincak and Papazkarasi grown in Thrace; the Sultaniye of the Aegean coast; the Okuzgozu and Bogazkere (used to make Buzbag) of Eastern Anatolia;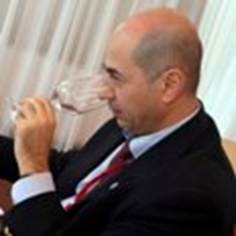 At the restaurant the guests will have an hour of seminar which will be given by Prof. Ertan Anli, who has B.sc and M.sc. in Food technology and PhD on Food Engineering from Ankara University. He has Qualifications in Enology (Wine Technology and Wine Chemistry), Alcooholic, Beverages Technology and Sensorial Analysis. He is also a member of Association of the Turc- French Engineers and Association of the Food Engineers (Board Member). He worked as a Research Assistant at Ankara University, department of Food Technology for several years. After his Doctorate degree, he worked at Universite Bordeaux II, Faculte d'Oenologie, Lab. De Chimie Appliqué, TUBITAK. When he moved back to Turkey, he became an Associate professor at Ankara University at the Department of Food Eng. He is currently the Prof. Dr. for the Food Engineering department at Ankara University.

At the end of the seminar, the guests will have a chance to taste the delicacies of Anatolian wines along with cheese and some snacks.
Operates on : Thursday, Apr 25
Price            : 99 Euro
Duration       : 13:00-18:00
Min. Number of guests : 15 guests