Request for Proposal
ISTANBUL, the city on seven hills
Unique city in the world built on two continents. At the crossroads of civilizations and with a known history of nearly 2,000 years, Istanbul is also the proud guardian of the invaluable remains of the three world empires, the capital city of which uninterruptedly continued to be from nearly its foundation to the first decades of our century. It is here that the chime of church bells mingles with the mystical call of the muezzin and sights and scents combine to overwhelm1 the visitor. With the skyline of minarets and noisy, crowded bazaars on one side, and skyscrapers, modern shopping malls on the other, Istanbul remains to be a unique link between East and West, the Past and the Present, majestically spanning the fabulous Bosphorus of all times.
Hippodrome square
Scene of chariot races and center of Byzantine civic life. Originally it was built by Emperor Septimus in 203 A.D. while the latter was rebuilding Byzantium. Although there is not much left of its initial setting except for the Egyptian Obelisk and the Serpentine and Constantine Columns, excavations indicate that the hippodrome was 117 m wide and 480 m long with a capacity of 100,000 spectators, which was one quarter of the city population of those days.

St. Sophia Museum (closed on Mondays)
Initially built by Emperor Constantius in 360 A.D., and dedicated nearly in its present form by Justinian the Great in the year 537 A.D., St. Sophia was for many centuries the world's largest church and today is the fourth largest after St. Paul's in London, St. Peter's in Rome and Duomo in Milan. Throughout its Byzantine history, St. Sophia served as the cathedral of the city where emperors were crowned and victories celebrated. After his conquest of the city in 1453, Sultan Mehmet II ordered for the building to be converted into a mosque by the addition of Islamic elements such as a mihrab, a mimber, minarets, etc. After having further served, this time as a mosque for 481 years, the building became a museum in 1934 by the order of Ataturk, founder of the Turkish Republic, and has since been open the visitors.
Basilica (Underground) Cistern
Built for wartime use by Emperor Justinian in the 6th century, the cistern served for water storage. 70 m wide and 140 m long in its dimensions, 360 Corinthian columns support its dome.
Blue Mosque
Built in early 17th century and known as the Blue Mosque because of its magnificient interior decoration with blue Iznik tiles, the edifice is also the unique mosque in the world to have 6 minarets. Its 260 windows with very finely tinted glass make yet for another outstanding feature of the sumptuous building.
Topkapi Palace (closed on Tuesdays)
Built by Sultan Mehmet II in the 15th century after the conquest of the city, the palace housed sultans and their exotic entourage till mid-19th century. The complex is a group of structures which incorporates works from successive periods of the Ottoman reign. Today a museum, the palace displays priceless collections of the imperial treasury, astonishingly intact and numerous pieces of Chinese porcelain, traditional costumes of the sultans and their families, and a special section for the preservation of the relics of Prophet Muhammad. The palace grounds also comprise the mysterious Harem of the Sultans (the visit of which is not included in regular tours).
Grand Bazaar (closed on Sundays)
The largest "souk", covered oriental shopping mall in the world, the bazaar groups 4,400 shops under one single roof. In time, each one of its narrow alleys has become the center for the members of one particular trade such as slipper makers, furniture makers and antiques, copperware, traditional souvenirs and the like.
Beylerbeyi Palace (closed on Mondays and Thursdays)
Situated on the shore at the Asian end of the Bosphorus Bridge and built between 1861 and 1864 by Sultan Abdulaziz, the palace is a three-storey structure set on terraced grounds planted with trees brought from the entire world. The interior was decorated in a style typical of the 19th century-Europe and the original furniture is still in display. The building itself, constructed in the French Baroque style, is made of stone and marble. It was used by the Ottoman sultans as a summer residence.
Bosphorus
A narrow strait between the continents of Europe and Asia connecting the Black Sea in the north to the Sea of Marmara in the south, the Bosphorus is one of the most exquisite places in the world. Its width varies between 550 m and 3,200 m; its maximum depth is 118 m and it is 31.5 km long. In Byzantine and early Ottoman days, there was little settlement on either side of the Bosphorus but as of the 18th century, it became a favorite place for the sultans and their entourage where they built their kiosks and waterside residence.
Spice Market (Egyptian Bazaar) (closed on Sundays)
Built in 1664 as a part of the Yeni Mosque complex situated nearby, and named Egyptian Bazaar because spices and herbs brought from or via Egypt were sold in it, this beautiful building is still the place where spices and herbs fill the shops in profusion and the air envelops buyers and visitors alike with enticing aromas of cinnamon, caraway, saffron, mint and what not.
Suleymaniye Mosque
Considered to be the most beautiful and splendid of all the imperial mosques in Istanbul, Suleymaniye, the mosque of Suleiman the Magnificent, was built between the years 1550 and 1557 by Sinan, the greatest of all Ottoman architects, whose wish was to surpass the builders of St. Sophia. Like other works of that time, Suleymaniye is not only a mosque but also a huge complex. It is an edifice which typifies the Ottoman Empire at its peak. The magnificence of the mosque, clearly reflected in its architecture, also prevails in the interior, in the fine portal gates, carved marble mihrab and mimber and even the carpets, chandeliers and bronze candlesticks.
Kariye Museum (Church of St. Savior in Chora) (closed on Wednesdays)
Kariye is the Turkish adaptation of the ancient Greek world "chora" which refers to "countryside". The church was built in the 4th century during the Byzantine days, then outside the city walls. First converted into a mosque during the 16th century, it was finally made a museum in 1948, leaving no Islamic element in the building except the minaret. The walls are decorated with superb 14th century-frescoes, and mosaics on a gold ground.
Dolmabahce Palace (closed on Mondays and Thursdays)
During the 19th century, westernization of the Ottoman Empire which became an important trend was also felt in the architecture of the time. Dolmabahce Palace was built under such an influence between 1843 and 1856 by Sultan Abdulmecit. The site of the palace was obtained by filling a small bay on the Bosphorus, thus giving the palace its name which means "filled garden." Its interior decoration is famed for a great collection of European antiques, its furniture and a Turkish Bath in alabaster. Covering an area of 25 hectares, the palace consists of 285 rooms and 46 halls among which figures a large reception hall supported by 56 columns, also featuring a chandelier which weighs 4.5 tons. Approximately 600 paintings adorn the walls and specially woven, very beautiful Hereke carpets of huge dimensions cover the palace floors.
Rumeli Fortress (closed on Mondays)
The fortress was built on the European shores of the Bosphorus by Sultan Mehmet II the Conqueror prior to his conquest of Istanbul and completed within the short period of four months. The aim was to prevent military aid coming from the Black Sea and the fortress served well its purpose during the siege of the city, losing its military importance after the conquest.
Princess' Islands
Hardly at an hour's distance from the center of the city providing a most pleasant ferry trip on the sea, an archipelago of altogether nine islands offers a beautiful pinewooded scenery. Walks or tours with horse-carriages through the streets of these islands, restaurants and cafés in this peaceful atmosphere provide the daily visitor with utmost relaxation. All nine islands together form a municipality, the mayor being in "Buyukada", the largest of them all. During Byzantine days, the islands collectively formed a religious center with many monasteries. The Ottomans, however, did not pay them the same interest and they were somewhat neglected.
Appreciated Appreciations
You are truly a gentlemen and I can see the passion you have for what you do. Not many people in our industry have the same passion.
CARLOS SANDOVAL / / CMP Senior Planner, Meeting Services / International Division
In all honesty and from the bottom of my heart, you are definitely the best DMC in the world – the passion and pleasure you pass onto your clients and groups is unsurpassed!
David, Pieter and the Winners Team / /
Aquick note of thanks for the incredible site tour a week ago. Christian and I thoroughly enjoyed you hospitality and wonderful history lessons. The power shopping was most excellent too. We fell in love with Turkey, in large part thanks to you.
Belinda Adkisson / Intel /
On behalf of British Submariners I would like to convey our congratulations on the 48th Convention, which enjoyed by all. It was well planned and successful and I hope that you will take credit for a job well done.
James C S Blakely / International Submariners Association /
The EASL Monothematic Conference was a huge success and we have received wonderful feedback from the BMS Leadership and the meeting participants. I attribute Much of the success of the program to your precise, detailed advance and on-site planning and the exemplary on-site execution of Dalim. Dalim orchestrated the on-site events with skill, ease and professionalism and was a pleasure each and every day we worked with him.
Joann Kerns / Bristol Myers Squibb /
There are no words to express our gratitude for your gracious hospitality, your time spent with us and your willingness to share your comprehensive knowledge of your city with us. Thank you, Thank you, Thank you.
Rebecca Linder / Linder & Associates Inc Event Architects /
As always everything was prepared spotless! And personally I had a great time too. It was a great pleasure seeing you again, Mustafa. Istanbul is definately one of my favorite cities and you are a big part of it.
Pawel Clapak / Nu Horizons / Groups & Events Coordinator
Thank you for all of your hard work and dedication throughout the planning and execution of our event. You went above and beyond in speaking to our group and making them feel welcome, comfortable and educated. I know that we can be demanding, so know that you and your team did a remarkable job in exceeding our expectations.
Malissa Bastone / American Express Company / Manager - Executive Meetings & Events
From the minute I started working on this event, I was in great hands. Mustafa was HONEST and GENEROUS from the beginning and when I finally met him and lsil, I felt as if I was with an old friend. He treated our attorneys and our event as if it were their own. We were not treated as clients by them, they treated us like family. I cannot begin to tell you what an absolute pleasure it was seeing them every day and working with them. Not only did they introduce Chadbourne and me to a beautiful rich country with a lovely warm culture, but they helped make our event 100% perfect. I was asked how I was going to top this event. I was also asked how I was able to plan such an event from New York without seeing Istanbul, any of the sites and even the hotel, and I said - I had wonderful partners - Universal Travel.
Michelle Shirian / Chadbourne & Parke LLP /
Thank you so much for EVERYTHING you did to help make our tour to Turkey such a big success. Your support and assistance is greatly appreciated and valued. The group really enjoyed their tour and we now have another 32 disciples who will spread the word about Turkey for us.
Rob Chaplin / The Golf Travel Company /
It is such a pleasure to work with you. Your customer service is outstanding and I never have to worry when you are in charge. It is so nice to work with someone who is so detailed and on top of all aspects as you. I cannot wait to work with you again in the fall.
Rachel Stevens / MBM Productions /
On behalf of the Rosebank Union Church group I want to thank you most sincerely for all you did to make our tour of Turkey unforgettable. I came home not only with a deeper understanding of the Scriptures, particularly those relating to the Seven Churches, but also with an appreciation of and admiration for the country of Turkey. I was particularly fascinated by Istanbul, and hope to spend more time there in the future exploring the riches of that most fascinating city. I also loved the fertile valleys through which we travelled, the sight of the snow-capped mountains, and the friendliness of the people we met as we walked the streets of those smaller towns along the way.
Leigh Robinson / Rosebank Union Church /
Moreover, the history of Turkey is impressive, not only the recent history but the ancient history which confirms the history of our Bible. I have not visited Greece, Israel or Italy or other countries mentioned in the Bible but think that Turkey is more central to the history of the Bible.We are also amazed at Turkey and what it achieved. It is evident that this would not happen without sound work ethics and commitment by the whole population.
Piet Zeeman / /
Local drinks & Turkish food was really tasty and all the sightseeing (incl. Hamam & boat trip & Night Club visit) were really good for team spirit. We don't have any issues or complains at all — lovely place & polite people.
/ Stanley Black&Decker /
Mustafa and Isil were wonderful and gave our program their personal attention. I was pleased since this was a relatively small group and yet Universal gave it their all. I would definitely recommend them to others!
Ann Craig / /
As professionals you are great ambassador's for your country. Your enthusiasm and sincerity shine through in all you do. Your attention to detail and expertise in this field helped us knock this conference out of the park! So much so that it won me an oscar...
James Coomes / Fritolay /
We are all thinking of you and again so appreciative of everything you have done over the many months leading up to this. We could not think of a better partner and are just sad we aren't there to be part of your team.
Rebecca Linder / /
One of our very best trips we have ever taken. Turkey was full of memorable moments along with a fascinating history and culture. Thanks for helping plan such an extraordinary trip!!!
Karen & Bruce Levenson / /
There are not enough superlatives in English to describe our trip to Turkey. Most amazing, most friendly, most interesting, most beautiful are just a few that come to mind. We want to thank you for organizing one of the best trips we have ever had. Flights, accommodations, guides and drivers, everything was perfect! Benjamin and Bulent were the most knowledgeable, friendly, and fun people ever. Mustafa was an excellent driver. The sites we visited in Cappidocia and Ephesus were fabulous. To paraphrase General MacArthur: "We will return!" Thanks again.
Jim and Barb / /
Rosemary and I (and, I'm sure, all the others in the party) thouroughly enjoyed the time spent in your beautiful Country. The planning and arrangements laid on were superb. There was a good balance between the secular and the religious aspects, the accommodation and food was great, and the transport went of without a 'glitch'. Halit is, with doubt, a superb guide and his knowledge of so many facets of history, polotics, economic, geography etc is outstanding. He instantly struck a good rapport with the group, and was a real pleasure to be with, and was definitely one to whom listening was not a problem. We came away from the eight days having learnt a tremendous amount both Biblically and about modern and ancient Turkey (as well as other parts of the world).
Lin / /
Thank you, thank you, thank you! The trip was superb! Everyone had a wonderful time and came back to S.A. raving about Turkey. They all want to travel again.
Bryan Andrews / IMPACT INCENTIVES &EVENTS / Account Manager – Product
Your insight, enthusiasm and passion reaffirms my decision to bring a Team to the Istanbul Marathon next year. I look forward to our next meeting!
Fred DeFina / Team Diabetes Canadian Diabetes Association / Director
I would like to add my thanks as well. You are truly an ambassador for your city and I think you demonstrate all the best that GEP and good DMCs around the world have to offer. It was an illuminating, exciting and informative site visit, and I look forward to our continued working relationship. Kindest regards,
Joe Orecchio / CWT / Meetings and Events
Mustafa, Isil and the entire Universal Travel team was awesome!! I cannot say enough good things about Mustafa and Isil - talk about above and beyond, they are fabulous and we all feel like not only do we now have a great new partner in Istanbul, we now have new friends as well. The meeting went incredibly well and the Legacy Awards dinner at Esma Sultan was FABULOUS!!! After Bangkok we needed it to be and it certainly was - the client was extremely happy.
Nikki Kelley / CMP / Director of Event Operations
Over the span of 25 years Universal Travel Services has provided five star service to our 19 tour groups totaling over 500 travelers. Universal and their fine staff have worked with me to develop a series of tours focusing on the biblical and Christian Church history sites in Turkey. One of the most consistent traveler responses in their evaluations of our tours has been, "Great value for the money." Thank you Universal for a quarter century of truly outstanding service.
Donald Cornell / USA / Lutheran Pastor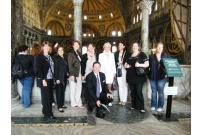 On behalf of the whole group I want to say a Very Warm Thank You for taking so good care of us during the study tour. We were very pleased with the fact that inspite of our short time, we managed to see so many beautiful venues and landmarks in Istanbul. You are very passionate about your city and we feel confident in that Universal Tours will continue to take excellent care of our clients.
Lena Markström / American Express Business Travel / Manager Supplier Relations Meetings & Events Nordic
We had no doubts about the professional ability of Universal to conduct an operation of that caliber, but I can honestly say that you went beyond my highest expectation... I am sure that our business to Turkey will improve, and I will keep you informed on the progress of our new push to promote your Country and our business...
S.B. / N.J.-U.S. / Vice-Pesident Operations Groups&Incentives
Apart from all the usual items - hotels/meals/sightseeing etc.. it was the way in which the additional services were handled and your ability to get things done and implement frequent last minute changes which was most impressive...
N.C. / Riyadh, K.S.A. / Regional Manager
The trip was a great success, the participants were most impressed with the wonderful service and the organization of the tour.... Thank you for making this a successful trip and no doubt we will spread the word that Turkey is a fantastic destination for all travelers all year around...
D.W. / Johannesburg - R.S.A. / Groups&Incentives Dept.
I was very proud to show my fellow travel agents of my superb services in Turkey and I am sure the word will spread that we sell not only good prices but very exclusive and personalized services...
E.T. / Miami, FL. U.S.A. / President
As I told you, every response we had, whether verbal or written spoke highly of the arrangements that your staff had made. And I owe you a debt of gratitude because I received a great deal of credit for things that I did not do...
Rev. L.R.S. / The Union Church of Istanbul /
I was surely well pleased with everything that Universal provided. This is really quite a compliment, as I am known in the industry for being very particular about everything and hard to please!...I think that few Americans realize how much Turkey has to offer as a tourist destination, and after having just a touch, I am hoping to entice them back for a longer trip...
A.M.N. / Arcadia, CA-U.S.A / Managing Director
The tour that our International Understanding group has just completed was a well organized and efficiently operated tour... I appreciated the telephone call from Mustafa, midway in our tour, inquiring of our well being. In all the years our group has been traveling, it was the first time a tour operator has inquired about us during a tour."..
C.K. / Boston, MA, U.S.A. / Tour Director
We would like to place on record our gratitude for the excellent way in which your Company supported O.I.T. during our recent Quota Club trip to your lovely Country. The professional manner in which every function was organized and the attention to the minutest detail did your Country proud...
R.S. / Braamfontein, South Africa / Managing Director
Your help and co-operation certainly made my task considerably easier especially as it was a large and difficult group. I was most impressed with your organization and professionalism."...
J.C. / Johannesburg ,South Africa / Executive Services Manager
I am very excited about Turkey as a destination for groups. ... We were also most impressed with the professionalism of your staff i.e. drivers and tour guides, and know that our customers will be in good hands...
S.L.M. / Los Angeles, CA U.S.A / Business Development Manager
...We would like to thank you and your excellent team at Universal for the professionalism and high quality of services they provided us as well as our 200 clients. We had great confidence in you, which was gained at our very first contact. Your attention to detail, suggestions and advice were greatly appreciated... We would like to add a special thanks to you for the prompt replies we received to our many telexes...
J.C.S. / Cape Town, South Africa / Director
...There are not enough good words to describe the extraordinary services that Universal arranged on my behalf upon my request to them regarding the change in my itinerary. I know that you are aware that the hospitality of the Turkish people is greater by tradition than other European Countries. The services and hospitality provided by Universal to me was of this tradition, more than just good business relations...
H.H. / San Diego, CA U.S.A. /
... I would like to extend my appreciation for making our 21th birthday celebration a memorable night...
B.T. / USMC/USS MISSOURI / 1st Lt.
...Everybody on our part agreed that it was indeed, one of the best trips any of us had; and this was due in no small part to all the assistance and advice you and your Agency gave us. Not many travel agencies would have spent so much time and effort with a group as small as ours, and we just wanted you to know how much we appreciated...
C.R. / Dhahran K.S.A /