Request for Proposal
Incentive Programs
Incentive tours reflection of the post-modetn world's deep concern to motivate, award and invest in human resources and relations, have put forward new destinations and ways of traveling. The idea behind being diverting the participating company staff, clients and dealers from their habitual occupations and environment, incentive tours necessitate an exceptional country, doubled with a lot of imaginative and creative thinking to make participants live a dream rather than simply visit a new country. The answer is Turkey, with unusual history, geography, nature and climate, exquisite cusine and incredible hospitality; the answer is also Universal, with its unquestionable competence and experience to create conditions to sweep the participants off their feet to land again but only once back home!
Unique Ideal Setting

Turkey's natural and historic setting needs no Hollywood genius to stage cardboard theme parties and events. The country's authentic scenery most naturally supplies all the decor surpassing any scenic talent and Universal is there to design, tailor, develop and create the right atmosphere.
Authentic History

Throughout this wonderland, places such as imperial palaces, the magnificent Roman theater of Aspendos near Antalya, the awesome Crusaders' Castle at Bodrum, the wonderful gardens of Istanbul's Archeological Museum, Byzantine cisterns and so many others are there for Universal to turn them, through its creativity and time sensitive service quality, to exclusive and private venues for fairy tale parties to dine and wine: nothing is imitation, all is genuine
The City of Emperors
Conscious of the boundless nature of imagination, however, Universal has chosen, by way of example and not limited to them, the cities of Istanbul and Antalya to illustrate just a few of the theme parties and events among so many others which the company may orhestrate.
Of all the places on earth, the city of Istanbul, Constantinople or Byzantium probably offers the most propitious natural and historic settig for theme parties and events. Successively capital to three world empires in the past, the only city astride on two continents over that unique waterway whşch şs the lovely Bosphorus, it bounds in extraordinary venues: it is a paradise for sightseeing, dining, shopping and entertainment!
Beautiful Resorts

The most charming Mediterranean city of Antalya, for its part, offers a verdant landscape under 300 days of sunshine, a magnificent coastal strip dotted with extraordinary historic vestiges and best modern accomodation and conference facilities.
So ask Universal to create the right atmosphere for any surrealistic event, the limit of which is, for the least, somewhere beyond imagination. Ask Universal to combine your events with a wealth of other activities. But please keep in mind that Universal's services will always remain realistic within the set limits of budget and group profile!
Please click here to see some sample Incentive Itineraries.
Please click here to see some Hotel recommended by Universal Travel Services.
Appreciated Appreciations
In all honesty and from the bottom of my heart, you are definitely the best DMC in the world – the passion and pleasure you pass onto your clients and groups is unsurpassed!
David, Pieter and the Winners Team / /
There are no words to express our gratitude for your gracious hospitality, your time spent with us and your willingness to share your comprehensive knowledge of your city with us. Thank you, Thank you, Thank you.
Rebecca Linder / Linder & Associates Inc Event Architects /
As always everything was prepared spotless! And personally I had a great time too. It was a great pleasure seeing you again, Mustafa. Istanbul is definately one of my favorite cities and you are a big part of it.
Pawel Clapak / Nu Horizons / Groups & Events Coordinator
Thank you for all of your hard work and dedication throughout the planning and execution of our event. You went above and beyond in speaking to our group and making them feel welcome, comfortable and educated. I know that we can be demanding, so know that you and your team did a remarkable job in exceeding our expectations.
Malissa Bastone / American Express Company / Manager - Executive Meetings & Events
From the minute I started working on this event, I was in great hands. Mustafa was HONEST and GENEROUS from the beginning and when I finally met him and lsil, I felt as if I was with an old friend. He treated our attorneys and our event as if it were their own. We were not treated as clients by them, they treated us like family. I cannot begin to tell you what an absolute pleasure it was seeing them every day and working with them. Not only did they introduce Chadbourne and me to a beautiful rich country with a lovely warm culture, but they helped make our event 100% perfect. I was asked how I was going to top this event. I was also asked how I was able to plan such an event from New York without seeing Istanbul, any of the sites and even the hotel, and I said - I had wonderful partners - Universal Travel.
Michelle Shirian / Chadbourne & Parke LLP /
It is such a pleasure to work with you. Your customer service is outstanding and I never have to worry when you are in charge. It is so nice to work with someone who is so detailed and on top of all aspects as you. I cannot wait to work with you again in the fall.
Rachel Stevens / MBM Productions /
Local drinks & Turkish food was really tasty and all the sightseeing (incl. Hamam & boat trip & Night Club visit) were really good for team spirit. We don't have any issues or complains at all — lovely place & polite people.
/ Stanley Black&Decker /
Mustafa and Isil were wonderful and gave our program their personal attention. I was pleased since this was a relatively small group and yet Universal gave it their all. I would definitely recommend them to others!
Ann Craig / /
We are all thinking of you and again so appreciative of everything you have done over the many months leading up to this. We could not think of a better partner and are just sad we aren't there to be part of your team.
Rebecca Linder / /
Thank you, thank you, thank you! The trip was superb! Everyone had a wonderful time and came back to S.A. raving about Turkey. They all want to travel again.
Bryan Andrews / IMPACT INCENTIVES &EVENTS / Account Manager – Product
I would like to add my thanks as well. You are truly an ambassador for your city and I think you demonstrate all the best that GEP and good DMCs around the world have to offer. It was an illuminating, exciting and informative site visit, and I look forward to our continued working relationship. Kindest regards,
Joe Orecchio / CWT / Meetings and Events
Mustafa, Isil and the entire Universal Travel team was awesome!! I cannot say enough good things about Mustafa and Isil - talk about above and beyond, they are fabulous and we all feel like not only do we now have a great new partner in Istanbul, we now have new friends as well. The meeting went incredibly well and the Legacy Awards dinner at Esma Sultan was FABULOUS!!! After Bangkok we needed it to be and it certainly was - the client was extremely happy.
Nikki Kelley / CMP / Director of Event Operations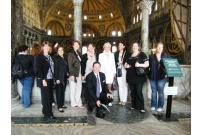 On behalf of the whole group I want to say a Very Warm Thank You for taking so good care of us during the study tour. We were very pleased with the fact that inspite of our short time, we managed to see so many beautiful venues and landmarks in Istanbul. You are very passionate about your city and we feel confident in that Universal Tours will continue to take excellent care of our clients.
Lena Markström / American Express Business Travel / Manager Supplier Relations Meetings & Events Nordic
We had no doubts about the professional ability of Universal to conduct an operation of that caliber, but I can honestly say that you went beyond my highest expectation... I am sure that our business to Turkey will improve, and I will keep you informed on the progress of our new push to promote your Country and our business...
S.B. / N.J.-U.S. / Vice-Pesident Operations Groups&Incentives
The trip was a great success, the participants were most impressed with the wonderful service and the organization of the tour.... Thank you for making this a successful trip and no doubt we will spread the word that Turkey is a fantastic destination for all travelers all year around...
D.W. / Johannesburg - R.S.A. / Groups&Incentives Dept.
I was very proud to show my fellow travel agents of my superb services in Turkey and I am sure the word will spread that we sell not only good prices but very exclusive and personalized services...
E.T. / Miami, FL. U.S.A. / President
I was surely well pleased with everything that Universal provided. This is really quite a compliment, as I am known in the industry for being very particular about everything and hard to please!...I think that few Americans realize how much Turkey has to offer as a tourist destination, and after having just a touch, I am hoping to entice them back for a longer trip...
A.M.N. / Arcadia, CA-U.S.A / Managing Director
The tour that our International Understanding group has just completed was a well organized and efficiently operated tour... I appreciated the telephone call from Mustafa, midway in our tour, inquiring of our well being. In all the years our group has been traveling, it was the first time a tour operator has inquired about us during a tour."..
C.K. / Boston, MA, U.S.A. / Tour Director
We would like to place on record our gratitude for the excellent way in which your Company supported O.I.T. during our recent Quota Club trip to your lovely Country. The professional manner in which every function was organized and the attention to the minutest detail did your Country proud...
R.S. / Braamfontein, South Africa / Managing Director
I am very excited about Turkey as a destination for groups. ... We were also most impressed with the professionalism of your staff i.e. drivers and tour guides, and know that our customers will be in good hands...
S.L.M. / Los Angeles, CA U.S.A / Business Development Manager
...Everybody on our part agreed that it was indeed, one of the best trips any of us had; and this was due in no small part to all the assistance and advice you and your Agency gave us. Not many travel agencies would have spent so much time and effort with a group as small as ours, and we just wanted you to know how much we appreciated...
C.R. / Dhahran K.S.A /